VALUABLE WINTER SKIN HACKS TO IMPROVE YOUR SKIN GLOW
VALUABLE WINTER SKIN HACKS TO IMPROVE YOUR SKIN GLOW
Our skin changes in the cooler months. Moisture can evaporate quickly out of our skin in winter, due to lower humidity levels. Cold temperatures cause our blood vessels to constrict which reduces the blood flow in our skin making it look dull, devitalised and difficult to retain moisture. Here are some tips below your skin will love!
Tweak your skincare routine

You'd be surprised just how many of us don't think about this. Change to a more nourishing moisturiser for these next few months. O's Comfort Cream ( A moisturiser) or Youth Activating Oil Balm (An oil balm used as an extra protective layer, over the top of your moisturiser) is a great start.  These products contain peptides, vitamins, essential fatty acids, minerals, rosehip, macadamia nut & other oils to protect & nourish skin. This also includes dry, itchy, sensitive and reddened skins.  Please come & speak to me about the best way to help your skin this winter.
2. Change your cleanser
A simple cleanser change for these few months can make the world of difference to hydration. O's Nourishing Cleansing Balm is a 3-in-1 Balm, Oil and Milk triple treat! Heavenly and cloud-like it goes on as a balm, is massaged into an oil and turns into milk with water collecting dirt, pollution and makeup as it goes. Combining nourishing shea butter with a blend of skin-softening oils, this cleanser will nourish your skin over the dry months.
3. Warm Showers  No Soap
Time to ditch that cute, smelling fancy soap you bought and go for a body wash that contains No sulphates. Sulphates are what makes a product lather- the more lather, the more sulphates, the more drying. Here's my current one I just pulled out of the shower as an example. This is the kind of label you want, it's just a Sukin one from Coles and yes it may be more expensive than Palmolive but it's worth it.  Many shower gel brands are now labelling products more effectively as they know what the consumer is after. BEWARE! though skincare can market however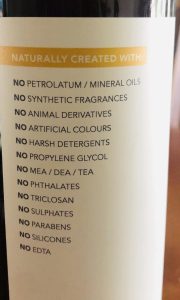 they like, they aren't breaking any laws so, if you see a milk or honey or moisturising Argan Oil shower Gel it can and many do still have SLS in them. It's just fake advertising, really check the ingredients and if your not sure, google it.
Maybe an oil bath is more your thing but remember to have short, warm showers rather than long, hot ones as this will only irritate, dry, cause redness and make your skin itchy.
Best time to moisturise your body is at night, straight after a shower while your skin is still damp. I use Medisoothe first for a water based hydration followed by G& M Body Butter. Remember any body moisturiser in a tub or bottle is more likely to be a better option as the ones in a pump (even though super convenient for application) are thinner & more water based. You want a thicker application for your body.
4. You Still Need SPF
Yes, UVB (the ones that burn) rays are less in winter but they haven't disappeared completely. However, UVA (the ones that age you & cause cancer) are all year round. We all know how much the sun ruins our collagen, elastin, ages us, damages our skin in general, not to mention melanoma. Sunscreen will also help to lock in moisture & keep your skin hydrated. Remember to still keep up the great work and apply to face, neck, dec & hands. I'm in love with O's New tinted SPF 50+ which is a lightweight, oil based SPF. I prefer it compared to the old Mineral Pro, just quietly.
5. Reasons To Hydrate!
Water is KING! and here's why-
Our cells need it to function properly
Supports our collagen and skin elasticity
Increases the flow of our lymphatic drainage
-making skin glow, not looking sluggish
-reducing dark circles & facial puffiness
Your crepe paper like lines will be less noticeable
Fuller lips, Plumper skin, Brighter Eyes, Less Breakouts
It actually regulates our body temperature
Carries nutrients and oxygen to cells which our skin needs
Your second best friend to moisturiser
It's FREE, it's cheap, it's easily accessible
Your BEST beauty go to
If you don't like drinking water then try the following-
Eat Soup as it contains plenty of water and great vitamins & fibre in your veggies
Eat fruits & vegetables with a high water content like watermelon, tomatoes, oranges, lettuce, strawberries, cucumbers & peaches to name a few
Food items like pasta, rice & oatmeal absorb water when boiled.
Drink herbal tea or bone broth. Less alcohol & coffee will also help
6. Winter Facials Are A MUST!
A facial will reset your skin, improving circulation and restoring moisture while preparing it for the season to come. Don't wait until your skin gets dry or sensitive, prevent the problem now so you go through winter with a hydrated, nourished & healthy skin. Best to enjoy one every 3 weeks to keep your skin looking its best. Many facial products are stronger than your home care & under a guided professional,(That's me) who knows the anatomy of a skin cell and how those ingredients are going to interact with the structure & function of your skin is all you need! Besides self care & a relax!
WHERE LOCALS GLOW
At Diva I specialize in Brazilians, Spray Tans, Skin therapy- Microdermabrasions, Peels, LED Facials.

Have an active, yet affordable skincare ranges that will take your skin to BETTER places.

I LOVE my job, I'm passionate about making women & men FEEL fantastic, inside & OUT.